Hello, fellow travelers,
Diana here—reporting with some exciting news about PictraMap! These updates will improve your experience when creating animated travel maps so I hurry to share them with you.
Here's what we've been up to.
Who asked for a train?
You ask, we deliver ツ
The demand for a train as a mode of transportation was so overwhelming in the past couple of months that we had to implement it ASAP. And while at it, we threw in the mix a bus and a motorcycle 😉
Please, send us feedback about the new modes of transportation—we made it all for you and we want you to be happy!
A better way to manage location pins, their color and adding vehicles
I don't know about you but I live and breathe consistency. Our lead developer outdid himself this time and transformed the way you change the location pins, their color or add means of transport. Here's how it looks now when you add a new location or click an existing pin: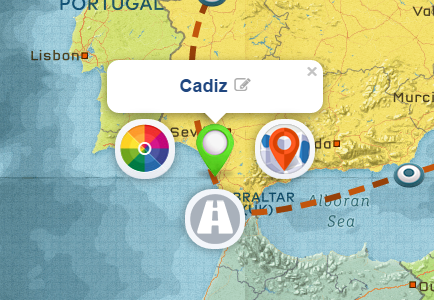 Like before, click the color palette to change the pin color—the difference is that now you will see the available colors: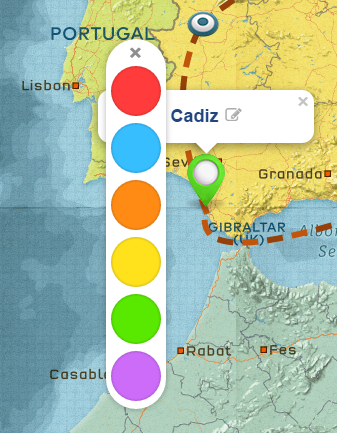 Also like before, click the pin icon to change the type of pin marking your location—the difference is that you will now see all the options you have, displayed in the current pin color: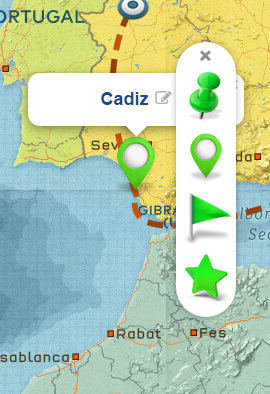 And finally, click the transport icon (the one that looks like an empty road when no transport mode is chosen) and the available vehicles will be displayed: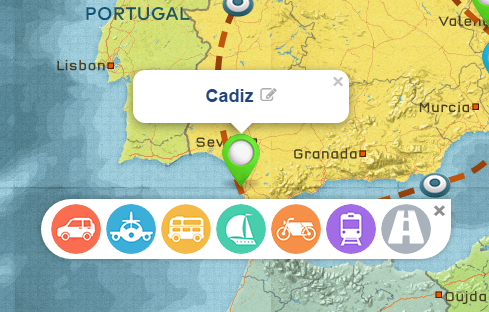 Important Note about the logic of adding vehicles
The introduction of new vehicles and this consistent way of choosing pins, colors and modes of transportation required a change in the logic, too.
So far, when you chose a vehicle to add to your maps, you were arriving at a given location in that vehicle. Now the logic is that you leave a location in a vehicle.
Don't worry—your old animated maps are safe—they will be displayed correctly even though they were built before this change in logic.
However, if you decide to create a new animated travel map or you edit an old one, you will have to account for the change in logic and set your vehicles accordingly.
Remember: going forward, you will leave a location in a chosen vehicle.
Did anyone search for cities in China with no success?
We received a few reports of the search function not finding any cities in China. (Thanks for the continuous support and feedback—you make all of this possible!)
We looked into it and we are happy to report that a new and better search function was implemented. It now finds more cities in more countries in different languages.
Try it out and let us know how you like the new search 😉
And finally, we improved the animation performance
I won't bore you with the technical details but you should know that all animations load faster now, and perform more smoothly in Google Chrome. (Other browsers soon to follow.)
Thank you for your patience and support, all!
We have a never-ending list of improvement and feature requests—thank you for sticking with us while we work our way up to perfection. Even though I cannot give you ETA for any of them, you should know what's next on our list, based on travelers' demand and feedback:
Full support of desktop and mobile browsers for the animation.
Premium feature to download video capture of the animation in mp4 format (suitable for YouTube, etc.)
Further optimizations of the animation performance (faster frame rate, no lagging and chopping of the animation).
The comment section is open—please, use it to share your feedback or requests with us!